After working my butt off on the treadmill, the elliptical trainer, and then lifting some weights, I thought I deserved some popcorn ala concession stand. Saw Kung Fu Panda (again) and Wanted at Siam Paragon last night. The former was just too good not to see again. Meanwhile, I underestimated the latter; thought it was going to be one of those Mr. & Mrs. Smith/Tomb Raider kind of movies (Angelina can't seem to make enough of them), but I was happily mistaken.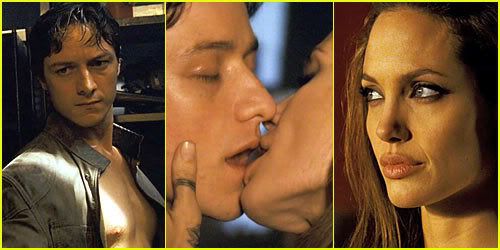 Angelina was smooth as ever (I haven't seen her so...bare, I don't think. In my language, she's someone we'd call "astig") and Morgan Freeman was epic (everybody loves Morgan), but James McAvoy definitely stood out. He was funny without even trying (OK, his lines were, thanks to the movie's writers, I guess, and Mark Millar for coming up with some very cool comics), and not bad to look at either (so what if he's married and just 5'7" tall). In fact, if it were a silent movie (or in my case, completely dubbed in Thai), I would've still enjoyed the movie a lot. And so would you. Not just of the protagonist's hotness factor, but the awesomeness of the entire movie. It was awesome.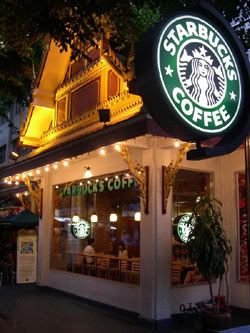 In other news...Have you ever seen that 200+ gallon steaming kettle right above the Starbucks on Court St. in Boston, MA? Well, there's a Starbucks here in Bangkok, on this street parallel to Silom and perpendicular to Patpong, I forget the name (or it was just too hard to remember/pronounce/spell in the first place). It's got a touch of Thai to it and I thought it was really cool. I took a picture while I was in the cab last night, but it turned out a little blurry. Found this picture online though (photo by Rizalindo S. Gigante -- who's Filipino, too, I bet). I have to go back there one of these days and take a decent picture. Maybe even get a Venti Java Chip Frappuccino Light Blended Coffee or a Grande Green Tea Frapuccino (no whipped cream either way) while I'm there.