I love food; I love to cook (both bookmarked and freestyle) and more importantly, I love to eat. I even take pictures of it sometimes. Why? Because they're just too pretty to forget. Behold the best meals [that I recall] I've had (in no particular order)...

1. Dad's-Saisaki-Kamayan Buffet. You got American, Japanese, and Filipino cuisine; three glorious buffets in one. Always an awesome experience when I'm there. Always.

2. Sinigang "communion" at Daddy Lolo's. When I was a kid, I remember going to my grandfather's house on weekends and everyone would be there. First cousins, second cousins, aunts, uncles, pets, you name it. Come lunch and/or dinner, Daddy Lolo (that's what we call him anyway. Lolo means grandfather or elderly man in Filipino) would prepare a huge bowl of rice mixed in with a generous portion of pork sinigang. He'd round up all the kids, make us form a line, and feed us a spoonful of rice ala sinigang one after the other. The best part? We get a free play pass -- since there were quite a few of us, when it wasn't our turn yet, we'd roam around the house and do kids stuff, for as long as we're back in line for our turn. Food AND play. Oh, happy days.

3. Sunday lunch as a child. My dad would always whip up something good for lunch after Church on Sunday. When we had sushi and sukiyaki, we'd wear bands around our heads and use chopsticks. When we had steak, he'd serve them in individual hot plates. Sometimes, I'd help. Most of the time, I just eat -- that's the best part after all, right? The food was always good. Nothing beats a home-cooked meal.


4. Beef Pares. What is pares, you ask? Instant gratification, that's what it is. Express Filipino comfort food. It's more than just food really. It doesn't matter if you're the president of the Philippines or a mere commoner. You'll definitely want this stuff. Basically, it's a combo of sliced beef stew Pinoy style, fried rice, and soup. What I learned from my brother is to ask for extra lotong (stew sauce) and fried garlic then pour them on your rice. Cocoy's, Retiro....mmmm. OK, homesickness is starting to kick in. lol


5. Grilled pork Soriano Style. Grilling pork in the Soriano Family is an art. All you need are pork butt or pork chop slices, a grill, and coal. Absolutely NO electric or gas. Who needs marinade? Who needs salt and pepper? Definitely not my family. OK, I am officially homesick! LOL

6. Fat-camp at Wan's house in Tagaytay. I gained 10 lbs. in those three days. Don't ask how we did it...because I'm going to tell you anyway LOL. Two words: Spiked Brownies. That's all it takes to make anything around you edible and delicious. I popped potato marbles like nuts, I tell you. Mmm mmm good.


7. Claim Jumper 09-19-08. Appetizer Combo to start, 12 oz. Fillet Mignon with baked potato, onion rings, and zucchini, and the Motherload Cake for dessert.

8. Chicken and Steak Fajitas. Always a good meal, any time, any day, on any occasion.

9. Angelo's Adobo. The first (and only) meal my boyfriend had prepared for me at his house eons ago. I hope it's not the last. LOL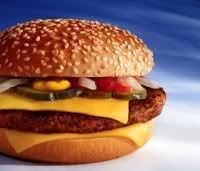 10. McD's Quarter Pounder w/ Cheese meal. Especially back home in Manila where they have 24/7 delivery. I can have the best meal ever in less than 30 minutes at any time of the day. I'm lovin' it.