Whether they be random or planned, acts of kindness happen rarely. However, when they're thrown out there, they really make a difference in people's lives, no matter how little or monumental these selfless acts are.


Today, blogcatalog is hosting yet another Blog Action Day campaign that aims to highlight our human potential for kindness. That we are more than capable of actual human connection and the words we write are only as powerful and affecting as our innate tendencies toward kindness. Bloggers all around the world unite once again under one banner, one purpose -- to touch, change lives, and write about the experience.

I remember attending an event in preparation for the World Youth Day a few years back. It was held in the middle of Plaza Miranda in Old Manila. If you know where that is or if you've seen it in pictures, you'd also know how crazy that place can be. I'll never forget this beggar/leper who had himself propped up on one of the church landings. He looked like he hadn't eaten in days. When I was about to give him money, a friend of mine stopped me and said something like, "I wouldn't do that if I were you." She wasn't being mean or heartless, I knew that. She was just concerned that I might "catch" something. Of course, I ignored her and reached out my hand to give him some money anyway. I thought, OK, he had an empty cup, I should just aim for that at least. With my luck though, of course something had to happen, right? As I put my money into the cup, my hand grazed, nay, SLID against his entire foot. I was stunned. I saw my friend laughing, you know, in a sort of I-told-you-so manner, but I just stood there in sheer panic. There I was in the middle of hundreds of people with dirt and germs and God-knows-what-else in my hands off of the leper's foot. And looking back, I realize I overreacted. I had a dirty hand for less than a minute. That man had whatever he had way longer than I have.

My friends and I still talk about that incident up to this day. We laugh about it, sure, because it WAS funny. But underneath the humor there was a reality that even I overlooked. Ignored, even.

Kindness has its rewards, but it certainly has its downside, too. The thing about kindness though is that you do it REGARDLESS. You give without expecting anything good in return. You invest your time and money on something or someone without any promises of worldly gratification. Whatever you get from these experiences is something you will always have though. Priceless moments that charge the spirit and give hope to other people.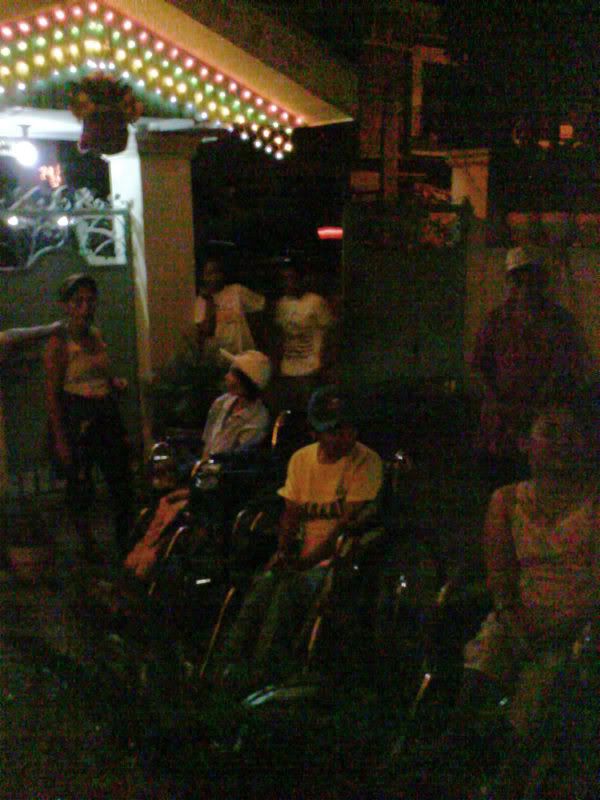 Last night, we had some very special carolers over at our house. They weren't dressed in frilly clothes nor did they have fancy instruments and props with them. Most of them were in wheelchairs and some probably didn't even understand what they were singing. They came from a place called Sinagtala -- a rehabilitation facility for physically handicapped individuals who are orphaned or have nowhere else to go. Sinagtala holds a special place in my heart because when my grandfather passed away, I decided to donate his wheelchair in his name to the Sinagtala Home. And last night, when I heard their Christmas carols, it was like my Gramps was there, too, singing along with them.

Incidentally, Sinagtala is a Filipino compound word which literally translates into "shining star" or "starlight." Just imagine how great the world can be if each and every one of us just shined...