Found this very interesting. Thanks,
Thom
! :)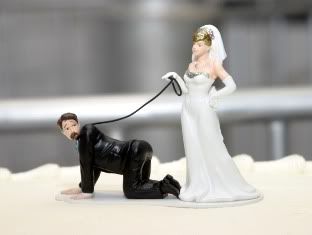 1. If you have been or are married, tell us about your wedding. If you are not, tell us how would you want it to be
.
Angelo asked me earlier tonight what I thought about getting married at this little chapel near their house followed by the reception at the basketball court next to it. I laughed. Then, I told him, I really didn't care WHERE we have it.

2. What age would you encourage your children to get married?
I don't really think there's a "right" age. For as long as they get their degree and both parties are truly convinced that they are physically, financially, emotionally, and psychologically ready, then they have my blessing.
3. Who got married at the last wedding that you attended?
Angelo's sister and Armand. We were secondary sponsors.

4. Do you enjoy weddings and receptions?
I do, yes. It's always great to be a part of such a happy day in the lives of the people dear to me.

5. Have you cried at a wedding?
I believe so.

6. Would you prefer a lavish event or a intimate ceremony?
Not lavish, but tasteful. And yes, intimate. Definitely intimate.

7. Have you ever been in some one's wedding party? If yes, do tell.
Ever since I could remember! I've had my share of the wedding entourage spotlight. Been the flower girl several times. Got my first bridesmaid gig when I was FOURTEEN. Since then, I can't remember how many times I've been a bridesmaid. I was maid of honor TWICE so far. So you can imagine how many dresses I've acquired the last 15 years. Katherine Heigl's got nothing on me.

8. Does a wedding make you happy and sentimental or grouchy and skeptic?
Happy and sentimental.

9. Why do you think our divorce rate is so high?
In our country, we don't have divorce. But the reason why I think the divorce rate is high elsewhere is simply because divorce IS an option.