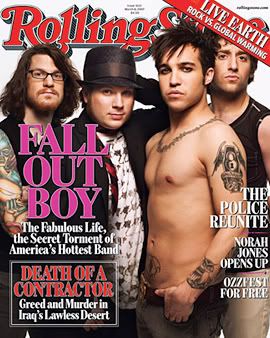 My throat is scratchy, eyes a little misty, and my mouth still a-gaping from the sight of Pete Wentz's uber-low belly tattoo and butt crack. I have to admit, sitting way up on the stands is a pretty humbling experience. Serves me right for raising a brow at the people in the nosebleed section in the past. Never again. Never again.

Needless to say, the Fall Out Boy concert held last night at the Araneta Coliseum was phenom. It would've been better if I was seated at least 5 rows away from the stage, but I'm beyond complaining at this point. I had fun, my friends had fun (I think they did), and the band did a pretty spectacular show. Flying from towering speakers like weightless ninjas on crack, spinning uncontrollably with their snazzy wireless guitars and undoubtedly insured body parts, throwing random stage elements out into the sea of people, taking off items of clothing and catapulting them into the crowd to appease the females (and the effeminate, too, of course), jumping into the mosh pit (well, Pete was actually carried by this really huge dude and HE kind of...offered Pete to the fans then carried him back to the stage) -- like I said, great show.

There's nothing like catching a rock concert on a weeknight...