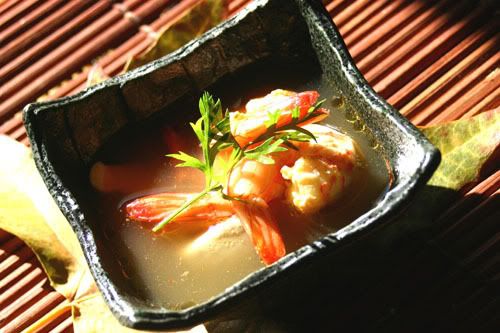 There are a lot of things I love about Thailand, but their spicy shrimp soup has got to be one of the top contenders.

ต้มยำกุ้ง or Tom Yam Grung (or Tom Yam Kung, pronounced in English as Tom Yam Goong) is a local delicacy broth made with prawns, mushrooms, vegetables, lemongrass, and other spices. I've searched high and low for authentic Tom Yam soup here in Manila, but nothing came close to the real thing. Sure, they tasted good, but something was still lacking. If you've tasted the real deal, I'm sure you know what I'm talking about.

What was the secret ingredient? I suppose there is none. It's just that the ingredients were locally grown and harvested. I'd imagine spices and flavors are unique for every country.

During my last trip, I bought quite a few packs of Tom Yam paste so I could make a decent bowl on my own. I haven't used it still. But I thought I'd share the recipe with you all and we could all make a nice bowl of soup from scratch. Reminder: don't leave out the optional ingredients if you really want to stay true to the taste.

Tom Yam Grung
(Spicy Prawn Soup with Mushrooms & Lemongrass)
1 lb prawns (shelled and de-veined)
1/2 cup straw mushrooms
2-3 cups water
3-4 cloves of crushed garlic
1/2 tbs finely chopped ginger
1/2 tbs lemon zest
6 tbs lemon juice
6 tbs fish sauce
1 stalk fresh lemongrass
1/4 cup cilantro (also known as coriander leaves)
1 tsp sugar
ground chili or red chili flakes
coconut milk (optional)

*Instead of regular fish sauce, you can use nahm phrik pla or Thai spicy paste in fish sauce. Instead of ginger and lemon zest, you can use kaffir lime leaves.

Mix garlic, ginger, lemon zest, lemon juice, fish sauce, lemongrass, and sugar in a bowl. Add as much chili as you want. The spicier the better. :) This mixture can be prepared ahead to save on time.

Put prawns and water in a pot and wait for it to boil. Then add the mushrooms and the spice mixture. Wait for it until it boils again. Switch heat to low and serve in small bowls. Add a few cilantro leaves for garnish. And voila!

OK, now I'm hungry.